Roman Gladiator School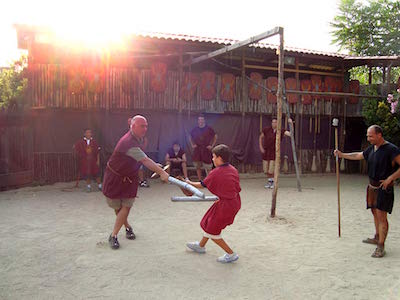 Duration: 2 Hours (approx.)
Location: Roma, Italy
Product code: GSR_Gladiator
About the Experience:
Great for families
and history buffs, this two-hour program gives you hands-on instruction in the fighting techniques once employed by Roman gladiators. Led by instructors from the Gruppo Storico Romano, these group classes let you handle historically accurate gladiatorial weapons, take part in combat training sessions, and even compete in a tournament. Learning about history has never been so fun!
What We Love About This Experience:
Participating in training exercises and swordfights, just as gladiators did in ancient Rome
Discovering facts about the lives of gladiators from historical experts
Learning about history by re-enacting it

Testimonial:
"I have been a Latin teacher for 15 years, bringing my students to Rome for 12. This was my favorite experience in that time. You might think that this type of activity could be cheesy or silly, but our kids had the time of their lives. As a teacher, it was — highly educational and fun at the same time. My 30 high-school teenagers loved it, and, to be honest, I want to participate next time, too!!"
-mss1226, July 2015
Experience Itinerary:

Once you've arrived at the Gladiator School (about 15 minutes southeast of central Rome, at Via Appia Antica, 18), you'll be introduced to your instructor from the Gruppo Storico Romano. Your instructor will first give you're a history lesson in the school's gladiator museum, during which you'll get to see, handle (and even try on) gladiatorial artifacts. Then you'll move on to combat exercises with (mock) weapons, dueling practice, and a tournament where you'll be dressed and outfitted in gladiator garb. Once you've completed your class, you'll get a certificate and be awarded a special gladiator name.

What's Included
:
Two-hour Roman gladiator training
Gladiator clothing and weapons
Drinks for participants
Entrance to the Gladiator School of Rome
Museum
Not Included:

Hotel pick-up and drop-off
Gratuities
Important to Know:
Please be sure to arrive at the Gladiator School 15 minutes before the starting time. Guests arriving after classes
begin may not be accommodated, and missed sessions will not be refunded.
Gladiator School is only permitted for children aged 7 and older.
Important to Bring:
A camera! Family members not participating in the training sessions will want to document them.
A hat, sunscreen, and bottled water. Some areas for spectators are not shaded.