VIP Capri in One Day Tour from Rome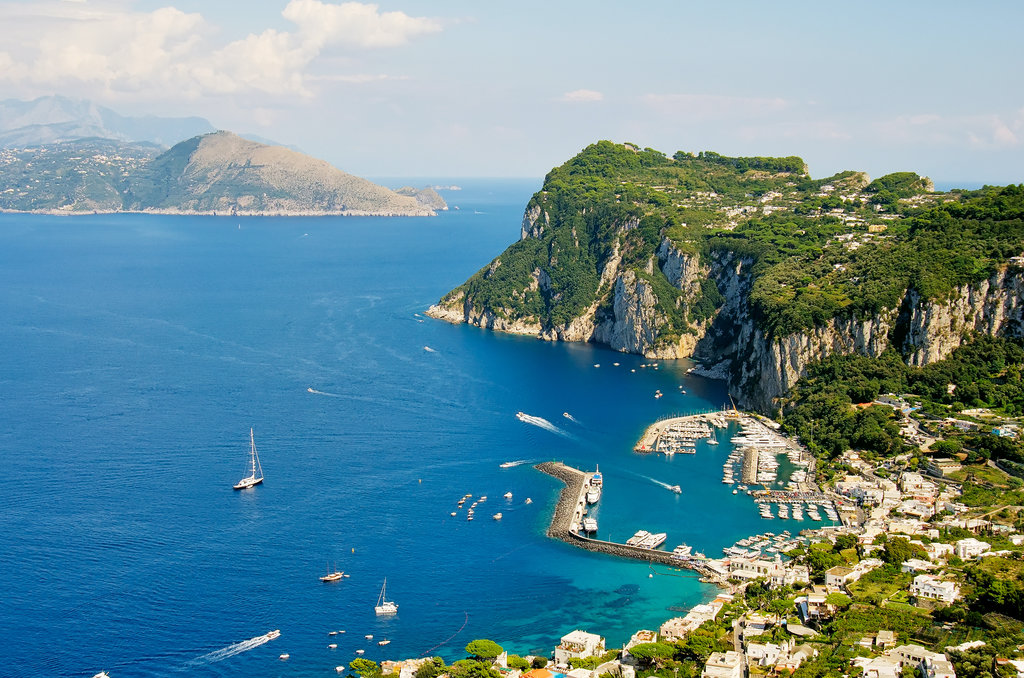 Duration: 14 Hours (approx.)
Product code: CW_RO_CA_G_FD
About the Tour:
Just 27 miles off the coast of Naples, the famous, craggy island of Capri rises from the clear jade waters of the Tyrrhenian Sea. A longtime hideaway for stars and celebrities, the island is home to fabulous restaurants, shops, and sites of natural beauty—including the spectacular, illuminated sea cave known as the Blue Grotto. Your full-day tour (great for shoppers, foodies, and those with limited time to explore) lets you take in all of these—while accompanied by a seasoned, English-speaking guide whose knowledge enriches every aspect of your trip.
What We Love About This Tour:
Arriving by private boat at the glittering harbor of Capri—and celebrating with a traditional limoncello
Savoring the heavenly aromas—and history—at the storied Perfumery of Carthusia
Exploring the island's winding streets, with its numerous chic boutiques, restaurants, and alfresco cafes
Taking in the otherworldly sapphire waters of the Blue Grotto
Testimonial:
"Our guide was absolutely wonderful throughout our day in Capri. She was extremely knowledgeable on so many topics, and went above and beyond to make sure everyone on our tour was having a good time. Right up until the last hour of our 14-hour day, she was still smiling, answering questions and providing us with information on restaurants and sites to see."
-Ellen, August 2015
Tour Itinerary:

Stop 1: Transfers via Private Coach and Boat to Capri
After meeting your guide in Rome's city center at 7:30 a.m., you'll board a private, luxury coach to begin your group's journey. Once you
reach Naples, you'll have a break to get breakfast, then switch to a private speedboat boat that will deliver you among the anchored luxury yachts of Capri's Marina Grande.
Stop 2: Welcome Limoncello

The shops and restaurants of Capri town sit high on the cliffs above the harbor, you'll take a quick funicular ride to get there—while
marveling at the stunning views. At the top, you'll enjoy a welcome limoncello at one of the island's lovely cafes.

Stop 3: Carthusia I Profumi di Capri

Though its streets are lined with upscale boutiques, none is more legendary than this Caprese perfumery, whose tradition of creating beautiful scents is said to date to the 14th century. You'll learn about the perfumery's locally sourced flowers and herbs, and get to sample (or purchase) its signature fragrances.
Stop 4: The Blue Grotto—or Independent Exploration
If you wish, you can choose to spend the rest of the afternoon exploring Capri on your own. (Be sure to stop at one of its numerous
restaurants to try traditional Caprese specialties.) Or, you can opt for a boat ride to the island's most unique natural formation: the Blue Grotto—a sea cave where sunlight filtering through the water turns it neon blue. Your group will then meet up in the late afternoon to start the trip back to Rome.

What's Included:
Air-conditioned coach transfer between Rome and Naples
Air-conditioned boat transfer between Naples and Capri
Private bus transfers on Capri
Limoncello tasting
Not Included:

Blue Grotto Excursion (optional add-on cost of €30 can be paid at the time of the trip)
Hotel pick-up and drop-off
Meals

Gratuities
Important to Know:

Please be sure to arrive at the tour 15 minute before starting time. Guests arriving after departure cannot be accommodated, and missed tours or tickets will not be refunded.
Unfortunately, wheelchairs and strollers cannot be accommodated on this tour.
Please note that the boat journey to Capri will occasionally be affected by adverse weather and sea conditions. If you are predisposed to motion sickness, please take necessary precautions before your journey.
Please note that excursions to the Blue Grotto are available upon client request at a price of €30. The service will be purchased on site and the only method of payment accepted is cash. The access to the Blue Grotto is always subject to weather conditions. Please note that if you opt for this side trip, you will miss a part of the tour in Capri, depending on scheduling.


Important to Bring:
Good walking shoes. The tour includes both hillside paths and stairs.
A hat, sunscreen, and bottled water. Many parts of the itinerary are not shaded.