Pompeii and Mount Vesuvius Day Trip From Rome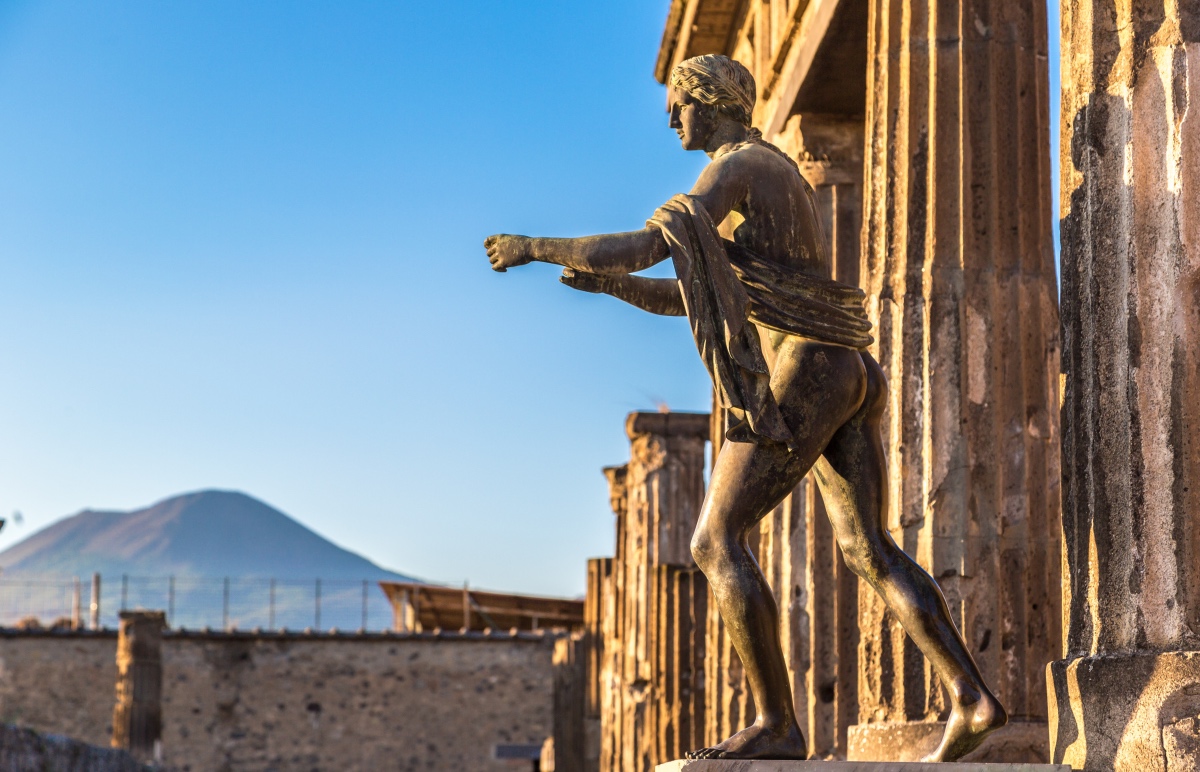 Duration: 12 Hours (approx.)
Location: Rome
Product code: RO-PO-G-E
No trip to Italy is complete without a tour of the ancient city of Pompeii. Experience the ruins of Pompeii and visit Mount Vesuvius, the volcano that destroyed it. Our relaxing day trip from Rome will take you on a climate-controlled bus on the Highway of the Sun to discover the south of Italy. Gain Skip-the-Line access to Pompeii, a city frozen in time. Explore this UNESCO World Heritage guided by an English-speaking history expert. Then take in stunning views over the Bay of Naples from the top of Mount Vesuvius.
DEPARTURE
7:30 am
DURATION
Approx. 12 hours
PERIOD
Year-round
What's Included in this tour:
Round-trip transportation between Rome and Pompeii in a comfortable, air-conditioned coach

English-speaking tour leader for the day
Skip-the-Line entry to the ruins of Pompeii with a local expert archaeologist guide
Authentic Neapolitan pizza lunch and refreshments
Drive and walk up to the top of Mount Vesuvius Volcano to see the Bay of Naples
Dedicated audio headsets so you don't miss a thing


Sites visited on this tour:
Ruins of Pompeii

Mt. Vesuvius Volcano and the Great Crater (summer season: April-Mid November)

Archaeological Museum of Pompeii (summer season and in case of bad weather)

City of Naples (winter season: mid-November-March)
Your Itinerary
Step 1: Rome to Pompeii
Travel from Rome to Pompeii in a comfortable, air-conditioned coach. From start to finish you'll be accompanied by an English-speaking tour who is an expert in this region of Italy.
Step 2: Pompeii
When you arrive at this UNESCO heritage site, your tour leader will help you skip the lines at the entrance while you enjoy your first view of the half-buried city encased in rubble and ash. Once in, you'll meet your personal archaeologist. They'll guide you along the paved streets that have been preserved for 1,500 years under 20 feet of volcanic ash. Unlike a museum, you'll be able to enter the homes, baths, food stores and outdoor theaters that have preserved so much of ancient life.
Step 3: Neapolitan pizza lunch
Leaving the archaeological zone, you'll break to a nearby restaurant on the slopes overlooking the Bay of Naples. Enjoy refreshments and freshly baked Neapolitan pizzas.
Step 4: Mount Vesuvius / Naples
After lunch, your coach will carry you up the slope of Mount Vesuvius, one of the few active volcanoes in Europe. Here you can take a short walk up to the steaming crater for views of Capri and Sorrento.
Mount Vesuvius is closed during the winter. During this time your coach will follow the coastline to Naples, where you can explore the city's iconic Castel Nuovo, art deco Umberto I Gallery, or stroll through the monumental Plebiscito Square.
Step 5: Return to Rome
After your visit to Mount Vesuvius or Naples, your comfortable, air-conditioned coach will bring you back to your starting point in Rome.