Naples Hop-On/Hop-Off Bus Tour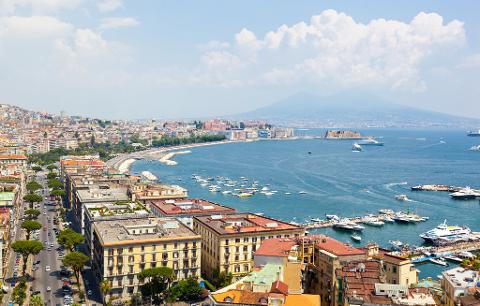 Duration : 24 Hours (approx.)
This stunning magical city of contrasts, spilling over the unique Bay of Naples. this is home to City Sightseeing Napoli. The three routes allow you to savour this vibrant city, once home to the Bourbon kings, and to discover all the things to do and see during your stay. Nature lovers will enjoy a visit to Stazione Zoologica where you can admire an array of sea life or surround yourself by palm trees, aquatic plants, ferns and a wide-ranging orchard at Orto Botanico
You must savour in this vibrant city, once home to the Bourbon kings, and to discover all the things to do and see during your stay. For food lovers it a must for you to sample a Neapolitan pizza and the other many gastronomic delights that Naples has on offer. Need a recharge -try some Neapolitan coffee which is made short and very, very strong.
So whether you visit one of the four castles within the city including the Norman Castle nuovo and the Castello del l'Ovo. Or you take in the San Carlo Opera and the art at Palazzo delle Arti Napoli and Palazzo Reale.. Naples is truly a must to see!
Attractions in Naples:

Museo Archeologico Nazionale - Natural History Museum with artifacts from Pompeii and Herculaneum.
Stazione Zoologica
Duomo San Gennaro - dates from the fourth century when the basilica of Santa Restituta was founded.
San Carlo Opera
Museo e Gallerie di Capodimonte
Pompeii
Paestum
Capri
Sassi de Matera
Blue Grotto (Grotta Azzurra)

Arenile Beach Club - with beautiful sunsets, music and dancing.
THIS SERVICE OPERATES ALL YEAR LONG, except on December 25th!
Line A - I luoghi dell'Arte: P.za Municipio - Largo Castello

Duration 61 mins and available year round.
10:00, 11:00, 12:00, 12:55, 13:55, 14:55, 15:50 - Every day

Line B - Le vedute del Golfo: P.za Municipio - Largo Castello
Duration 72 mins and available year round
9:30. 10:30, 11:25, 12:25, 13:25, 14:20, 15:20 - Every day

Line C - San Martino: P.za Municipio - Largo Castello
Duration 90 mins and available year round

10:45 - 12:30 - 14:45 - Saturday and holidays or on reservation

Important:
City Sightseeing Naples operates all year long, except on DECEMBER 25TH.
Valid for 24 hours unlimited pass
Children are ages 5 to 15. Children under 5 are free.
Your voucher is redeemable for up to 3 months from tour date booked.
Pre-recorded in 8 different languages: Italian, French, German, Spanish Chinese, Russian, Japanese.
Full mobility facilities on all tour buses.

City Sightseeing Tickets cannot be canceled, refundable or changed to a different location.