Skip the Line: Colosseum, Roman Forum & Palatine Hill Tour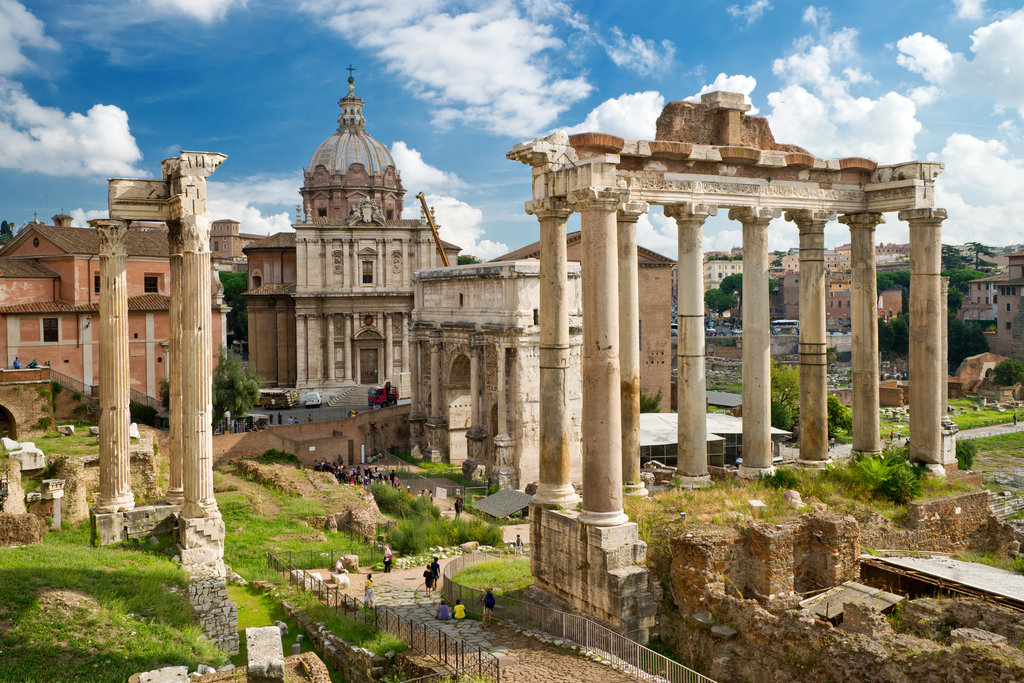 Duration: 3 Hours (approx.)
Product code: CW_RO_CO_G_E
About the Tour:
Great for history buffs, this walking itinerary lets you explore Rome's three most famous historical attractions in just half a day. Your small group (with a maximum of 25 people) will wander among the still-standing arcades and battle-staging areas of The Colosseum; the old markets and political arenas of the Roman Forum; and the remnants of emperor's palaces and
gardens at Palatine Hill—all with special Skip-the-Line access that lets you spend your time sightseeing, rather than waiting in entry queues. Guiding you will be an English-speaking expert in Roman history, whose knowledge helps bring these ancient sites to vibrant life.
What We Love About This Tour:
Delving into the fascinating—and bloody—history of The Colosseum, the iconic amphitheater of ancient Rome
Discovering the hub of the ancient city, the Roman Forum—once home to bustling markets, festivals, temples, and senatorial debates
Wandering among the ruined emperors' palaces and still-blooming gardens of Palatine Hill, the oldest of the Seven Hills of Rome
Skipping entry lines to spend more time sightseeing

Testimonial:
"Our guide was an archeologist who has worked on digs in the Roman Forum, throughout Italy and overseas. His incredible expertise shone—he had a wonderful, gentle manner of sharing so much information. As we walked he
brought Ancient Rome to life."
-Susan, April 2016
Tour Itinerary
Stop 1: The Colosseum

After meeting at the Colosseo metro stop, your group will head straight to The Colosseum: the extraordinary amphitheater that was ancient Rome's center of public entertainment. Gladiatorial clashes, wild-animal fights, and mock-naval battles were once staged here; and today, you can still see remnants of the seating arcades that once fit 50,000 spectators, and the staging areas where the brutal spectacles took place.

Stop 2: The Roman Forum

The onetime cultural, economic, and political center of ancient Rome, the Roman Forum still retains its grandeur today. You'll walk along the Via Sacra, a path once lined with bustling market stalls, tracing the paths of ancient military processions and political rallies. You'll also see important sites like the Temple of Julius Caesar (which still contains the altar where the emperor's body was ceremonially burned), and the Curia Julia—the still-intact Senate House where Cicero and Mark Antony once orated.

Stop 3: Palatine Hill

According to legend, the twins Romulus and Remus first decided to begin building the city of Rome atop this impressive hill (the most famous of the city's Seven Hills). Here, you'll get to walk among ruined emperors' palaces, and the still-verdant plantings of the Farnese Garden (one of Europe's first botanical gardens). You'll also enjoy the hill's sweeping views over the nearby Forum, Colosseum, and Circus Maximus (a grand sporting arena where chariot races were held).
What's Included:
All entry fees
Special Skip-the-Line access
Headsets that insure you always hear your guide
Not Included:
Hotel pick-up and drop-off
Gratuities
Important to Know:

Please be sure to arrive at the tour departure point 15 minutes before the starting time. Guests arriving after departure cannot be accommodated, and missed tours or tickets will not be refunded.

Unfortunately, wheelchairs and strollers cannot be accommodated on this tour.
Please note that one or more sites on this tour may occasionally experience last-minute, unforeseen closures. If this occurs, your group will instead be treated to alternate arrangements. Tour refunds or discounts will not be provided.
Important to Bring:

A small purse or camera bag only (no backpacks or large shoulder bags). Security checks at some sites restrict the size of bags that can be brought inside.

Good walking shoes. The tour includes both hillside paths and stairs.

A hat, sunscreen, and bottled water. Many parts of the itinerary are not shaded.