The Official Angels and Demons Rome Tour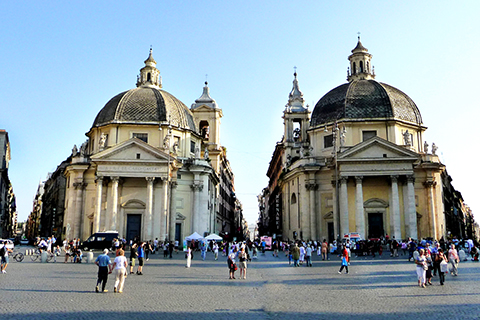 Duration: 4 Hours (approx.)
Product code: CW_RO_AD_G_E_AM
About this Tour:
If you're a fan of Dan Brown's Illuminati-themed historical thriller
Angels & Demons
, you'll be entranced by this in-depth tour of the historic Roman sights that inspired the story. Your small group (with a maximum of 25 people) will trace the steps of Brown's protagonist Robert Langdon through many of the city's highlights—including Piazza Navona, Castel Sant'Angelo, the basilicas of St. Maria del Popolo andSt. Maria della Vittoria, and St. Peter's Square. Guiding you will be an English speaking history expert who will illuminate the facts (and fiction) behind these sites.


What We Love About This Tour:
Discovering some of Rome's most fantastic—and written-about—sites, including Castel Sant'Angelo and St. Peter's Square
Following in the footsteps of Dan Brown's fictional protagonist, symbologist Robert Langdon
Sharing the sense of mystery (and spying historic clues) that inspired Brown's story

Testimonial:

"Any Angels and
Demons book fan would have loved how our guide made the participants
re-live the story on the tour. I especially liked how he gave contrasts and inconsistencies between the book, the movie, and facts."
-Byron, March 2016
Tour Itinerary:
Stop 1: Basilica of St. Maria del Popolo

After meeting your group at the Piazza del Popolo, you'll first head to this 15th-century Baroque church, whose exterior is
deceptively simple-looking. Inside, however, you'll find a trove of artworks by Renaissance masters like Caravaggio, Raphael, Pinturicchio, and Bernini—including a statue that serves as the first important clue in the Angels & Demons mystery.
Stop 2: St. Peter's Square

The vast open square outside St. Peter's Basilica in the Vatican City is your group's next destination. Here, you'll see the soaring, semicircular colonnades that flank the plaza (designed by Bernini); its towering ancient Egyptian obelisk; and its many special paving stones, including the Bernini West Potente relief—another main point of interest in Brown's story.

Stop 3: Basilica of St. Maria della Vittoria

This 17th-century church, with its single, frescoed nave, is home to one of Bernini's sculptural masterpieces: The Ecstasy of St. Teresa. The statue, which depicts St. Teresa of Avila being pierced by a seraph with a golden shaft, plays an important part in Angels & Demons.

Stop 4: Piazza Navona

Your tour continues through one of Rome's most famous, and beautiful plazas: Piazza Navona. The sweeping, oval square is anchored by three historic fountains—including the Fontana dei Quattro Fiumi, or Fountain of the Four Rivers, where a significant event from Brown's story takes place.

Stop 5: Castel Sant'Angelo

Your tour culminates with a visit to this imposing cylindrical building—now a museum—that was originally constructed as the mausoleum of the emperor Hadrian. It's also the location of Il Passeto—a secret, elevated passageway to the Vatican that set was particularly momentous in Brown's story.

What's Included:
All entry fees
Special Skip-the-Line access
Comfortable, air-conditioned coach transport between tour sites
Headsets that insure you always hear your guide
Not Included:
Hotel pick-up and drop-off

Gratuities

Important to Know:
Please be sure to arrive at the tour departure point 15 minutes before the starting time. Guests arriving after departure cannot be accommodated, and missed tours or tickets will not be refunded.
Unfortunately, wheelchairs and strollers cannot be accommodated on this tour.
Please note that one or more sites may occasionally experience last-minute closures for religious ceremonies. If this occurs, your group will instead be treated to alternate arrangements. Tour refunds or discounts will not be provided.

Important to Bring:
A small purse or camera bag only (no backpacks or large shoulder bags). Security checks at some sites restrict the size of bags that can be brought inside.
Clothing that covers your knees and shoulders. Entry into basilicas requires adherence to these dress
codes.
Good walking shoes. This tour includes several sets of stairs.