ROME - FAST-TRACK VIP WELCOME: Personal Assistant & Porter at Termini Train Station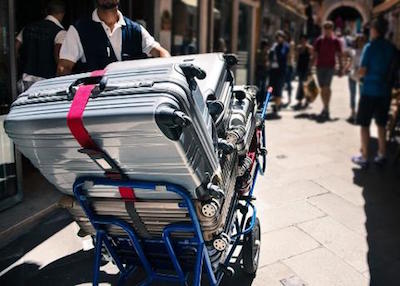 Duration: 50 Minutes (approx.)
Location: Rome
Product code: TRFAST
Arriving or departing from Termini Station can be a hectic experience. With our FastTrack VIP service, our friendly and knowledgeable staff greets you at this busy train station, helps you get to where you need to go, and carries your bags so you don't have to.
How does it work?
Whether arriving or departing, choose the FastTrack VIP service that suits you best!
• On Arrival: Your personal assistant is at your disposal from the moment you arrive on yourtrain. He or she will meet you on the train platform and is able to translate, assist with travel information and make area recommendations. Dedicated porters will unload your luggage and bring it to your desired drop-off point, e.g. Arrivals hall, taxi station, metro, or private transfer meeting point.
• On Departure: Your personal assistant greets you at our meeting point (a detailed map will be attached to your confirmation email), and your very own porter will take care of your luggage under the supervision of your greeter. You will be escorted at your own pace—right to your train seats. Don't worry, we will even load your luggage on the train!
Also included in the service are complimentary access at the ItaliaPass Lounge, a modern oasis in Termini—and ideal spot to unwind and enjoy an espresso while you await your transfer.
Our Fast Track VIP service is available from 09:30 to 19:00, 7 days a week. Please select in the calendar the time range you will need the service based on your train arrival / departure time.

INCLUDED

✓ Greeter: English-speaking assistant meets you upon arrival at Termini
✓ Porter: Carries up to 3 bags
IMPORTANT
The service is provided from 9 AM to 7 PM. (Exceptions possible on request with extra charge)
There is no fast track service provided on Italian Public Holidays:
January 1
April 21,22
May 1
Aug 15
December 25, 26
NOTES:
✓ Add up to 2 extra bags at a cost of $5 per bag

✓ Porters are not allowed to carry personal handbags
✓ Service on departure:
Meeting point: indicated on the map attached to confirmation email.
Meeting time: 30 minutes before train's departure time; greeter and porter will not be present earlier.
BOOK THIS SERVICE AT ANOTHER STATION:
Florence - Santa Maria Novella Station
Venice - Santa Lucia Station
Milan - Milano Centrale Station
Naples - Napoli Central Station